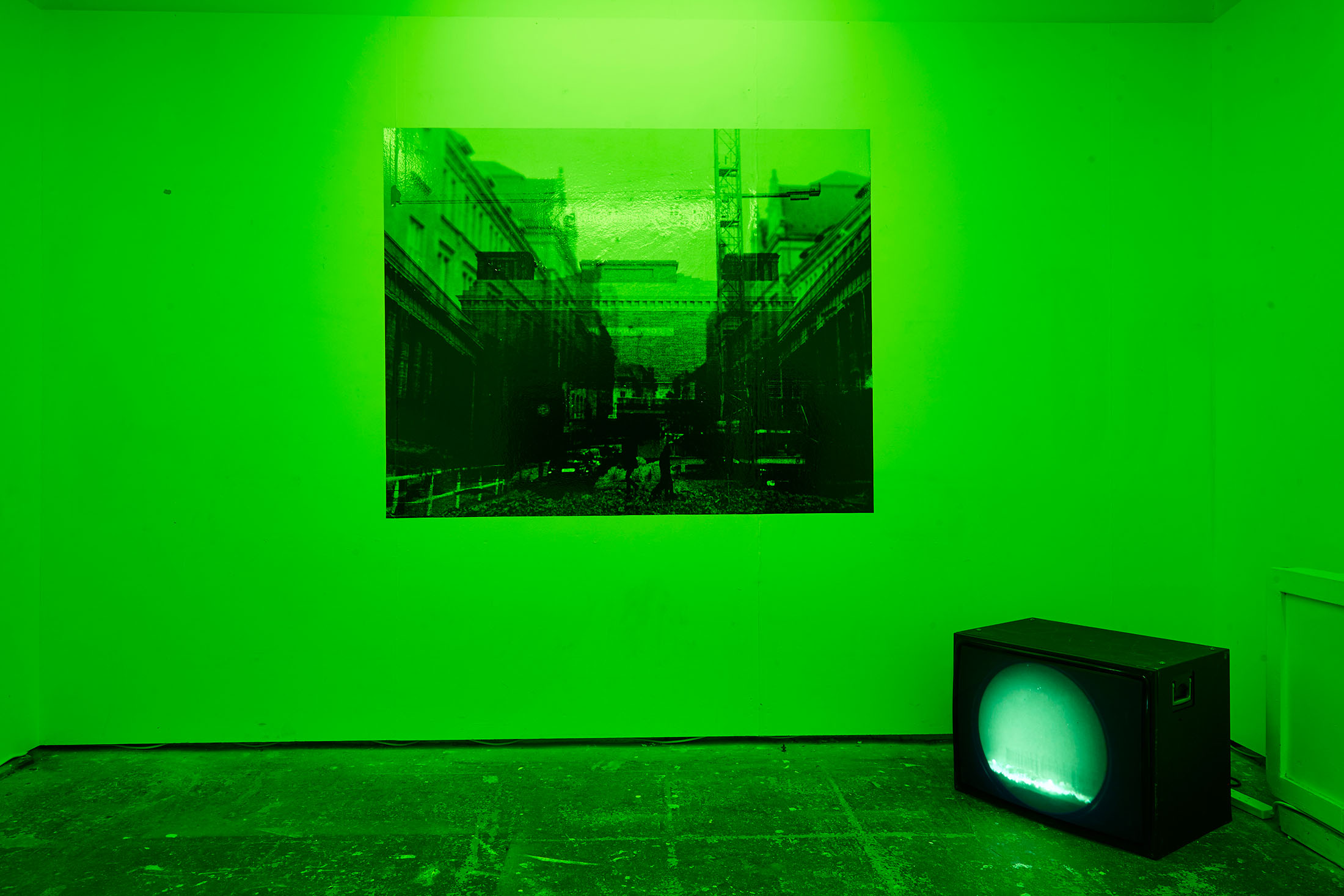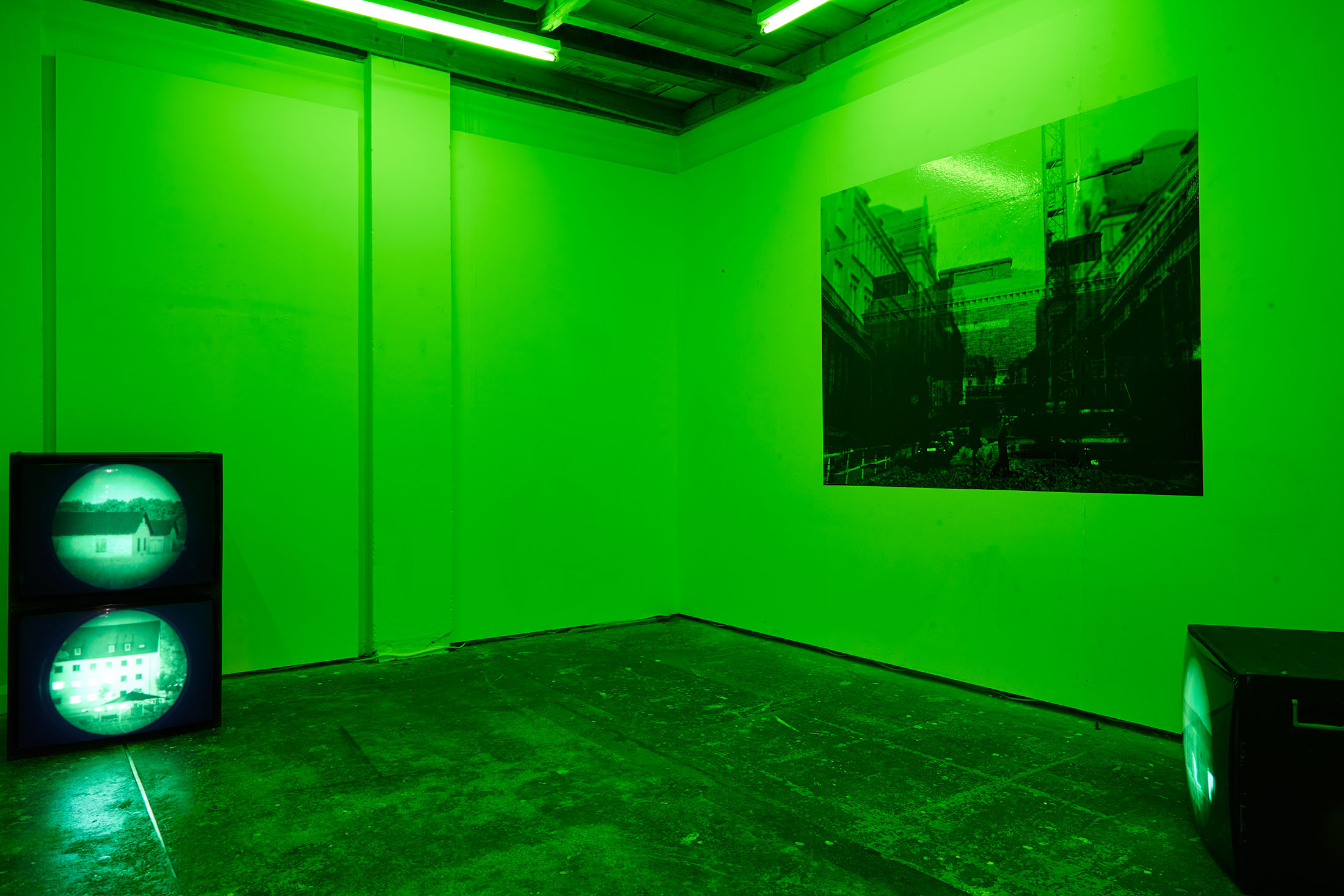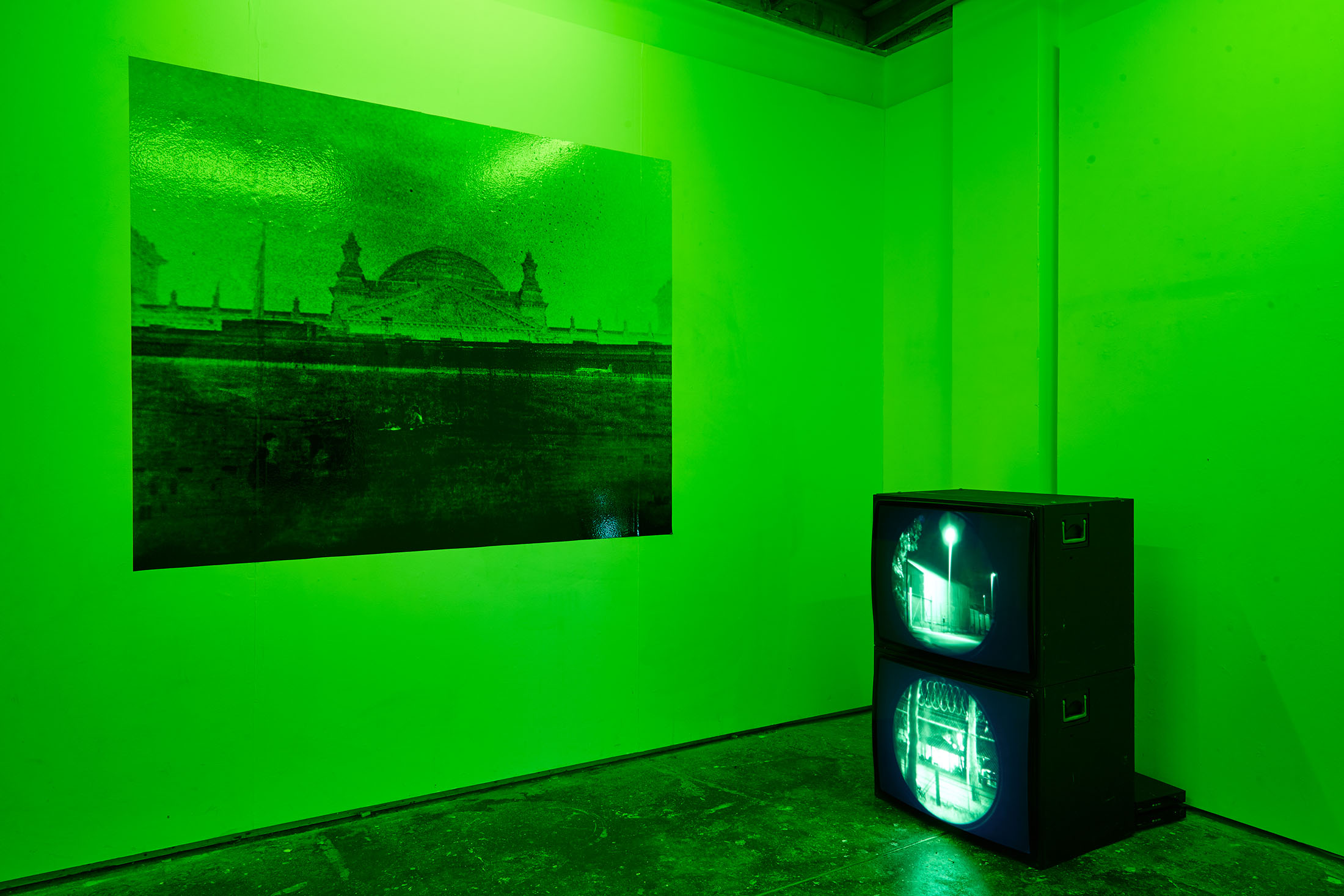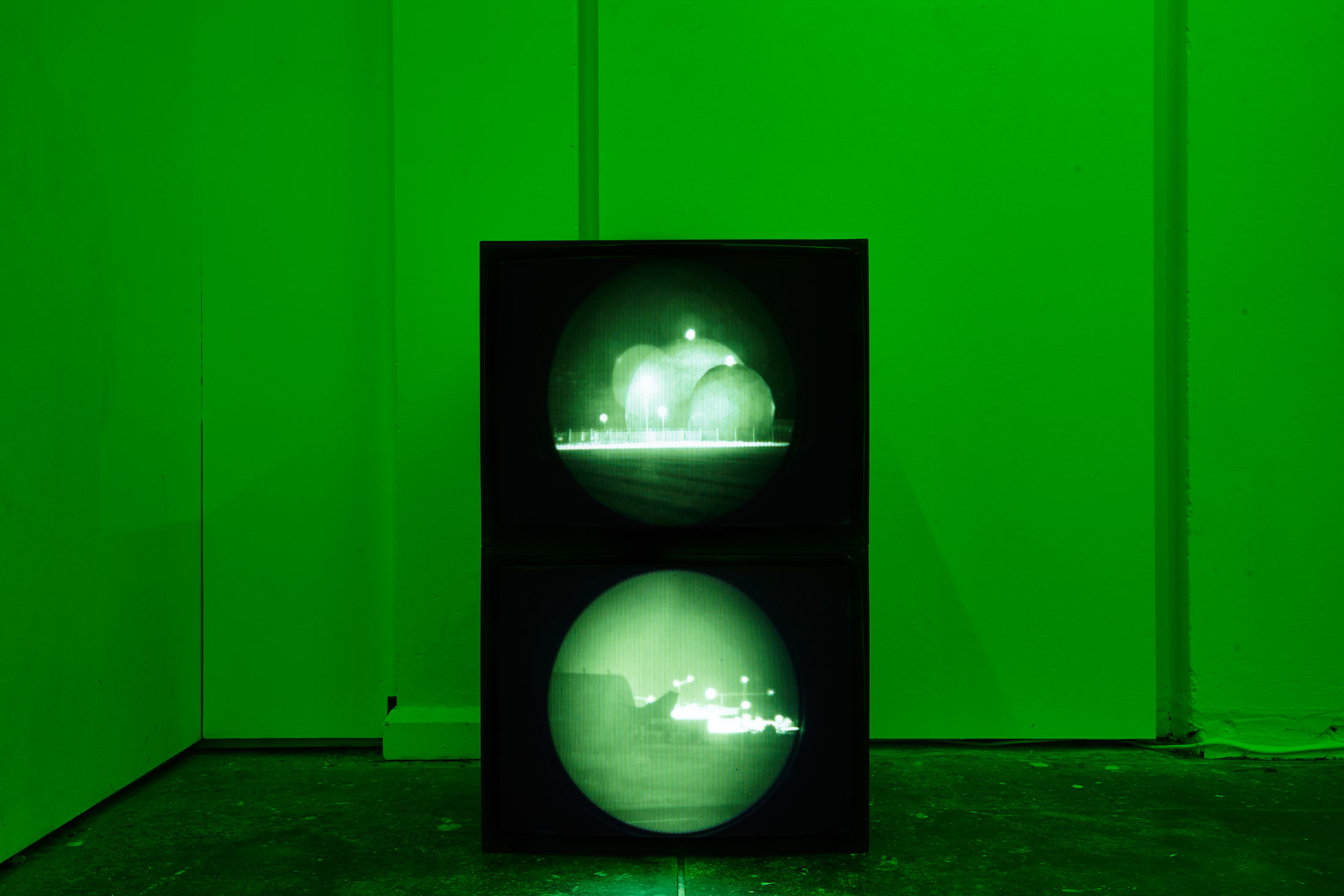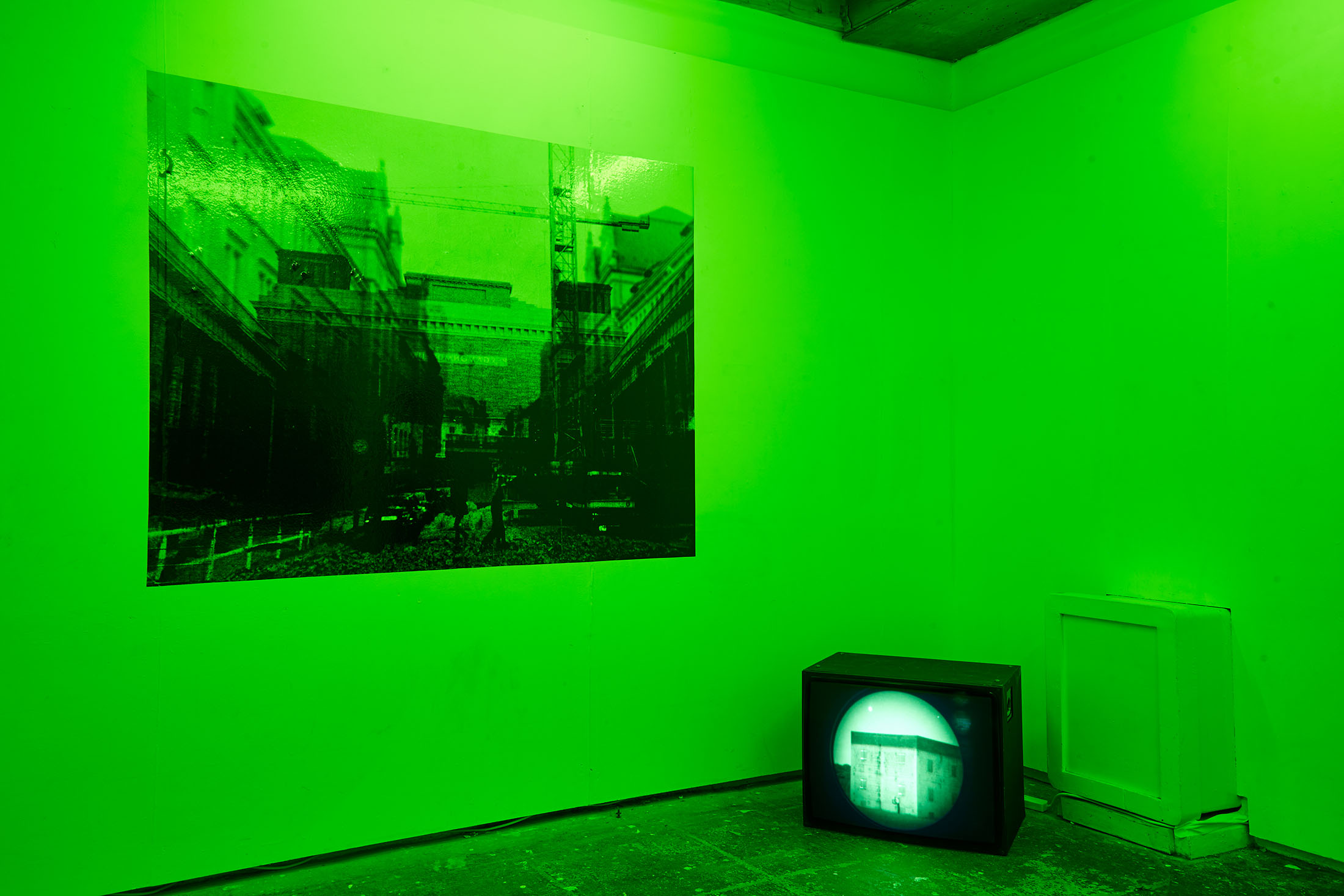 Duplicities, 2016, installation view, Back Room Gallery, Holdron's Arcade, London
Duplicities is a combination of research-based visual projects that join forces to investigate the social, political, and aesthetic stakes of the landscape as a site of memory and surveillance.
These projects adopt alternative strategies to reveal a truth in historical pasts and present: one through subtraction and super-vision, and the other through abstraction and super-imposition. Ultimately both projects intend to produce an alternative way of seeing both space and time: as a moment of duplicity where both past and present, real and imaginary make themselves indistinguishable upon a surface that is not what it seems.
New Landscapes (Max Eicke | 2015) is about landscapes of surveillance in Germany. In short, it is about outposts of the NSA.
Max Eicke travels in search of places that used to have great importance within national regimes of mass surveillance — and those that are still being operated today. These places are located throughout Germany and largely unseen by the majority of its citizens. This project aims to develop new ways of seeing. It utilizes night vision equipment to photograph the outposts of the NSA in order to not only capture those places through representation but to reveal them within an unsettling atmosphere. Figuratively speaking, this project is about visualising the idea of bringing something to light, wherein the aesthetics of night vision gear seemed to offer the only true way to realize these mythological places, as this equipment was originally designed for military use: for watching others, even when there is no light left.
Imaginary Architectures (Alice Bucknell | 2015) is invested in the possibility of using archaic methods of image making to produce alternative futures for the contemporary global city.
It is interested in the idea of the global city as a hybrid or composite of tangible sites of urban memory and identity, interwoven, inextricable, and indistinguishable from the other. It is about an overlapping network of cultural memory, built history, and transitional spaces in the cities of Berlin and Detroit. Using the concept of the palimpsest, plus Roland Barthes' and Walter Benjamin's writings on photography as well as their ideas of auras, the ecstasy of the image and its ability to stitch together present and past, this ongoing series uses experimental strategies of layering, multiple-exposure, chemical burning and dodging during the printing process to explore the structural and conceptual overlaps of the built environments of the cities of Detroit and Berlin.